Is Justice Candidate Luis Calderon Too Ashamed To Support Black People?
Details

Category: Politics
Published: Friday, 07 October 2016 17:53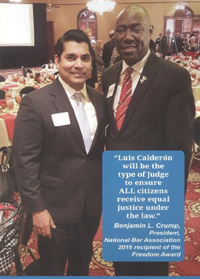 by Lawrence A. Robinson
It is interesting to me, that Luis Calderon would gain the endorsement of famed Black Attorney, Benjamin Crump, then hide that endorsement from certain voters. Calderon is campaigning for Circuit Judge against Black Attorney, taleph Haynes Davis.
Both Luis Calderon and taleph Haynes Davis attended a 'National Night Out' forum in Pine Hills
several days ago. Both had information packets to pass out. Calderon's palm cards sported an endorsement from famed Attorney, Benjamin Crump. When Calderon noticed that the crowd was filled with non-Black people, he removed his cards from the tables.
It was as if he wanted to promote his high powered Black endorsement to Black people only. It was as if he didn't want his non-Black supporters to think that he was 'that down' with the brothers. Maybe he needed to convince Black people that he could be a fair judge to us but it would be awkward trying to 'talk-the-talk' with so many others in the room.
Is it shameful in his 'circle of influence' to be supported by Trayvon Martin's Family attorney? If he were to become judge, would he be ashamed to support Blacks in his courtroom, the same as others? Will his 'circle of influence' hold court on him, for being fair to Blacks, and force him to back down as it appears he did at the forum?
Maybe Attorney Benjamin Crump should reconsider his endorsement of Calderon, and endorse taleph Haynes Davis, instead.
---